We are
galaxy communications
In continuing the journey that our two founders began in 1994, Galaxy Communications operate with a philosophy that has been guiding us since our first day: To Promote and Protect client's image. With nearly 80 communication specialists in both offices in Hanoi and Ho Chi Minh City, Galaxy offer a range of integrated marketing and communications solutions to a vastly diversified client portfolio. With nearly 30 years of experience, we are proud to be an important part in helping renowned multi-national companies to win media and consumers' trust when they first entered Vietnam market back in the 90s. Many of them continue to be our clients to date. Evolving from our profound background, Galaxy continue to excel in highly professional PR services and at the same time develop new strength underlying ability to create sound communication strategy that integrated latest social and digital platform. We are proud of the seasoned strategists as well as the young and talented faces in our team who are educated overseas and trained to the best knowledge of local markets. Galaxy Communications is international in professional practice while our deep rooted understanding of Vietnam market, cultures and issues makes us an outstanding local expert. Whilst the landscape of communications is transforming and we are all at the intersection of people, brands and technology – it is the commitment to our clients that enables us to cruise through all the changes and challenges, so together we can make an impact and shape the future. Welcome to Galaxy Communications!
Management team
LE THU QUYEN, MBA President
Quyen joined Galaxy at the time of its inception and has been the company's Managing Director from 2007 until July l 2017. Quyen's holistic perspective as one of the first PR practitioners in Vietnam is a unique asset that valued by the company and clients. She is also an expert in crisis management. Quyen has amassed an extensive network and close relationship with local media personnel and government authorities.
NGUYEN THI TRANG NHUNG Managing Director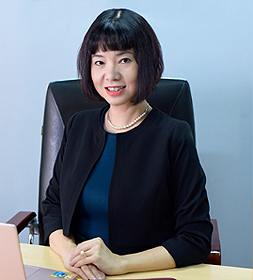 Nhung joined Galaxy in 2008 and has since continued to reinforce and expand Galaxy's reputation as leading communications agency in Vietnam. Nhung together with the team develops the company's new strength underlying solid integrated communications solutions, including digital platform to clients. Before Galaxy, Nhung had extensive experience in advertising industry and marketing management.